Slide
Up to
60% of Property

in

Medway

and

Kent

is afflicted with some form of damp
Dampwise Medway are the premier damp proof course specialists of Medway and the surrounding areas. Many older terrace properties in the South East date back to Victorian times. A large percentage of these properties were never constructed with a functioning DPC (slate-bed) and have suffered decades of damp, mould and mildew.
At Dampwise Medway we provide a low-cost method of rectifying damp in your home. A one-stop, no-delay, indefinite solution to fix your damp problem. We specialise in the DPC injection process and provide a guarantee certificate on completion.
A failed damp proof course means rising damp will slowly saturate plaster, masonry and timber, making your house uninhabitable. Whether the Damp Proof Course in your property has deteriorated or failed completely, we can drill and inject a new DPC the same day.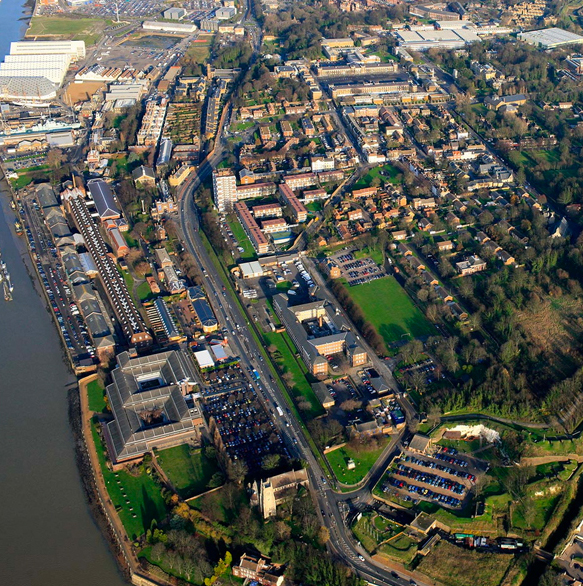 The slate or bitumen-felt that may possibly be visible in the external brickwork bed-joint. It's usually about three courses above ground level. It may be concealed by render, or it may be missing entirely. However, a functioning DPC is the only thing keeping a dry home from being a damp home.
Unless a compromised physical damp proof course is replaced with a chemical injection damp proof course, the moisture retained below ground-level will continue to rise up the wall and cause damp and deterioration. Although it's possible to live short term in a damp environment, for the long term occupants of damp property, a swift decline into ill health and sickness is always an inevitability. Once a severely damp property is condemned for being uninhabitable, it's only a matter of time before structural integrity becomes compromised and rectification becomes an impossibility. These properties often end up being sold at auction at a vastly reduced cost.
It's a sad fact that most so-called damp experts these days haven't got a clue what they're doing and just want to scam worried property owners out of a few quid. They make a mockery out of the damp proofing industry and give the few remaining good contractors out there a bad name. At Dampwise Medway it's different. Our primary concern is fixing the damp in your property by using the correct methods and appropriate products.
Contact Dampwise Medway today and get a FREE and IMMEDIATE QUOTATION.
A damp property will deteriorate rapidly. After a while, the plaster will 'blow' and fall off the brickwork. All timber within the property will be a risk of dry-rot and wet-rot.
Children, the elderly and anyone with an underlying respiratory condition will be at risk of severe health problems associated with damp. Indeed, there is documented evidence to link the early and unexpected demise of several individuals with their prolonged expose to damp, black mould and mildew.
We only use environmentally-friendly, innoxious chemicals.
Who We Can Help
Buyers
We can give you a price for injection DPC on your prospective new home.
Vendors
The surveyor mentioned damp in the homebuyers report ? We can help.
Property Developers
Residential, commercial or industrial ?  We are at your service.
Estate Agents
Quotation, installation and certification on the same day.
Lettings Agents
Tenants reported a damp problem ? Let us take the problem off your hands.
Homeowners
Don't live with unsightly and hazardous damp walls ! We can fix it today at low cost.
Business Premises Owners
Whether it's a high street shop or a unit on an industrial estate, we act quickly so you won't lose trade.